TechnoServe Website Redesign
I oversaw a comprehensive redesign of technoserve.org as the product lead and project manager. The website was reimagined to express TechnoServe's new brand and meet online fundraising best practices.

All images courtesy TechnoServe and Bluecadet
The Challenge


During my first year-and-a-half at TechnoServe, an international nonprofit, I was focused on making moderate improvements to the design of their website. I also moved the site onto a new CMS and CRM.

However, the underlying architecture and design system had its limits, and it was becoming clear that more significant changes needed to be made. We needed a different toolkit for our content to resonate with our audience, and encourage them to donate to us.

At the same time, our department was leading a rebrand to modernize TechnoServe's messaging and visual identity. The change would be dramatic, and the website would need to fully express the new brand.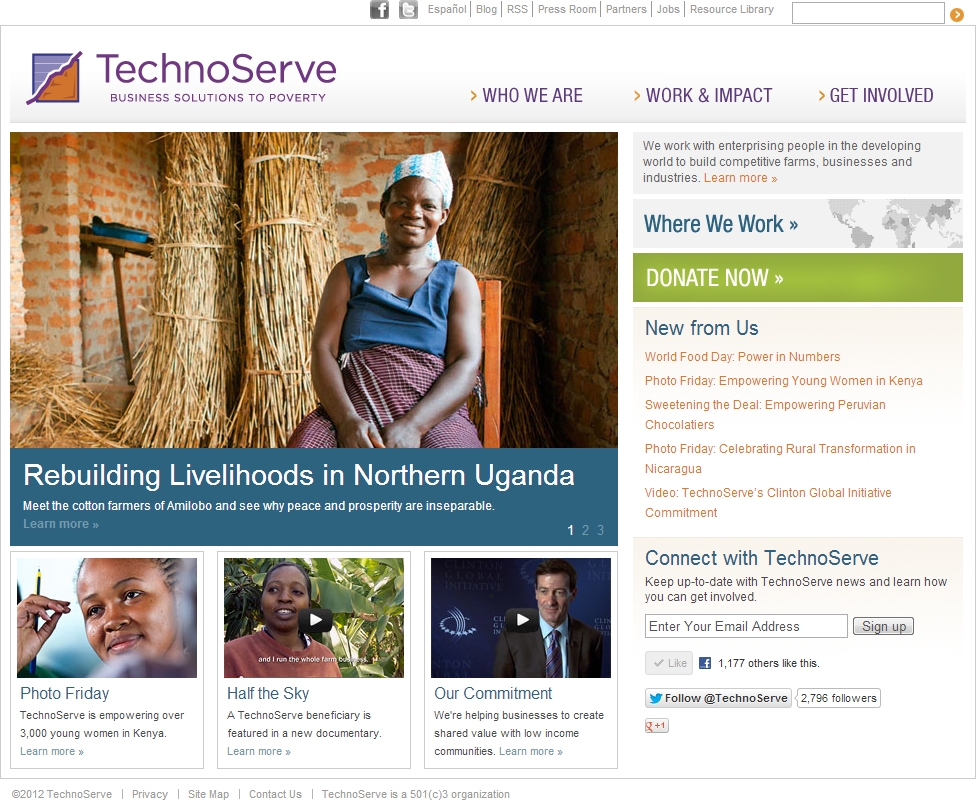 The technoserve.org homepage, circa 2012
Our Approach


After completing a requirements analysis for the product, I created an RFP, researched and contacted agencies, and helped select Bluecadet as our designer. Our existing developer stayed on.

During the redesign, I kept the project aligned with the defined budget, milestones, and scope, and ensured that deliverables met our requirements and specifications. I also facilitated discussions between internal stakeholders, our branding agency, and our designers and developers, negotiating differences or clearing up points of confusion to help everyone see eye-to-eye. The product was shipped in six months, on schedule and under budget.

The Solution

Through close collaboration with marketing staff, our branding agency, and fundraising consultants, we tightly orchestrated the website's design and content to manifest TechnoServe's new visual identity and messaging. Page templates made bold use of color and texture, and put our photography and writing front and center. The templates were also responsive and modular, maximizing flexibility for both site visitors and content creators.

All together, these components created a vehicle for compelling nonprofit storytelling in service of fundraising. Not only did we include direct appeals to donate throughout the site, we also prompted visitors to subscribe to our emails and social media accounts. We continued educating our audience about our work using those channels, priming them to eventually give. As a result, our new website and fundraising strategy facilitated a 58% increase in donations over the previous year.

The redesigned homepage of technoserve.org
Design Samples